Last week marked the 70th anniversary of the hanging death of Dietrich Bonhoeffer. Hence it was an occasion for meditating on the German Lutheran pastor who, amid Nazi atrocities during WWII, was driven to take part in an assassination plot against Adolf Hitler. Bonhoeffer's unapologetic writings on ethics and theology have factored heavily in my own spiritual and intellectual development since I first began studying him in 2003 as a senior in college. Specifically, his formulations on "costly grace" put a fire in my belly about the gravity of deeds in the Christian life, and their inescapable role as the true indicator of living faith.

---

When I was in college, I went to a bar in downtown Chattanooga, TN to see Derek Webb in concert, he of Caedmon's Call fame. That night he introduced a new, as-yet-unreleased song that immediately became a favorite of mine. It was called "Wedding Dress," and it pulled from repeated themes in the scriptures of harlotry. One thinks of Hosea's wife, various other Biblical allusions to the nation of Israel and her prostitution of herself, and also a few notable courtesans of the New Testament. If you're unfamiliar with the song, have a look at it here:
Powered by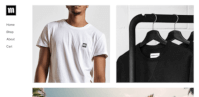 Create your own unique website with customizable templates.