My Orthodox journey to this point can be divided into two phases. The first and longest phase was the theological exploration. The second, and which I find myself in now, is coming to a greater understanding of Orthodox worship. Even as someone deeply inclined toward Orthodoxy, some of the finer points of the Divine Liturgy (their weekly, Sunday morning service) have prompted personal skepticism as to whether the ritual sprung from the meaning or vice versa. I still have volumes to learn in that area however, and the purpose of this post isn't to examine the development of any one liturgical aspect. The objective is simply to relay some recent thoughts of mine on what is probably the most repeated phrase in the Orthodox worship economy: "Lord, have mercy."

---

Journeys of faith are bizarre. And by journeys of faith, I don't refer broadly to "going through hard times." Rather, I mean the experience of suffering through a protracted shifting of belief about something (or some things) that can involve the painful uprooting of long held and cherished non-negotiables. I want to take this moment to divulge such a journey as I have been on for nearly three and a half years now, and on which my wife blessedly came to join me in recent months.
Powered by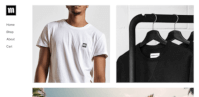 Create your own unique website with customizable templates.