This post is the second in a multi-part series chronicling my journey from Evangelicalism to Eastern Orthodoxy. See Part 1 here.[UPDATE: Let the reader be advised that most in this ongoing series of posts will begin with a snapshot of an event late in my Orthodox journey, followed by a return to picking up chronologically where the previous post left off. I had the original idea of that literary approach becoming evident over the course of the series, but a friend has pointed out something that necessitates a preemptive explanation of that choice. Specifically, it was brought to my attention that my parents appear in an unflattering light in this post because of their initial question to me when we sat down to discuss our new church inclinations. I mean to convey in upcoming posts that I've had more than a few fruitful discussions with both of my parents in the last year, and they have both entertained my family's venture into Orthodoxy with grace and love. They have blessed my wife and I with the space to do this to a degree many in our position have not been so fortunate as to experience.]

As a 34-year-old who was raised and formally educated as an Evangelical, it may sound strange that my family are on the cusp of entry into the Orthodox Church. It's particularly confusing to Evangelical friends and family who have known me for a long time, and this series of posts I'm beginning is meant largely for them. But it's my hope that these might also serve as a soft touch point for Orthodox inquirers out there who, like myself once upon a time, are looking for present day conversion stories that may help them better understand their own journey (and give them hope!). So to you, inquirer, fear not. The journey is necessary and worth it. To my friends and family asking "Why?," I hope this account will be accessible, personable and satisfying. It's probably unavoidable that some will find grounds for disagreement or even frustration with some of my theological turns over the last 4+ years, but after this series is complete, at least my journey should be demystified.

Powered by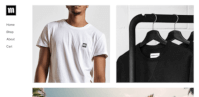 Create your own unique website with customizable templates.