In 2005, I was gifted a book called Slander, by Ann Coulter. There's no other way of describing my experience of reading that book than to say that it was responsible for my political birth, for good and for ill. I learned from Ann that mainstream media is agenda driven, not facts driven. I also learned from her that historians, like scientists, are generally not unbiased observers. They bring political philosophies and personal hobby horses to bear on events of the past and present. As obvious as these things are to most adults, these were world shaking revelations to me in 2005. "Truth is everywhere at risk!" I realized, and set about a self-appointed quest to contend for its preservation in my own small ways.

One of the odd realities a Protestant is faced with upon entering the Orthodox Church is the role of saints in church life and piety. Prayers are offered to saints quite frequently and encouraged of the faithful. The practice cannot be summarily dismissed as a flourish of theological decadence, as many Protestants (including myself once upon a time) are inclined to do. The Church has a theology of the saints that proclaims they are not only alive in Christ, but that they are spectators of life on earth and can be called upon for their prayers in the same way that we call upon our living friends and family for theirs.
Powered by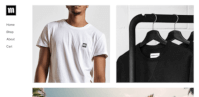 Create your own unique website with customizable templates.