A good friend of mine asked me on Facebook yesterday why I observe Lent. The question is a natural one for biblically conscious Christians who rightly desire a scriptural grounding for all aspects of Christian practice. My response to my friend was probably the most in-depth written treatment I've ever attempted of how I've come to understand the spiritual reasoning behind Lent in the Orthodox tradition, so I figured it was worth cross-posting here at my blog. To set this up, my friend had posted a general question to her Facebook followers about why any among them observe Lent. I commented saying that I would try to find her a concise Orthodox treatment of the question, since some others who commented had gone down the road of "anti-religion" proof-texting. But she countered that she wanted to know why I personally found Lent to be valuable. Why do I personally observe it? This was my response, cleaned up slightly for this more formal platform.

This is kind of a tricky question to answer for non-Protestant Christians (especially Orthodox), because our spiritual experience is not personalized. It's personal, in that it is not purely corporate, but it's not personal in the sense that it is self-styled. So the short, unsatisfying answer to your question would be that I practice Lent because my Church prescribes it for a variety of reasons, and I trust Her wisdom over my own transient spiritual creativity.



That's not to say I don't have my own personal appreciations for Lent, though. I practice it because "religion", which has been incorrectly conflated with Pharisaism in this thread, has merits (see the entire religious experience of the Israelites in the Old Testament).



I practice it because it is an integral aspect of the Orthodox Church's calendrical, liturgical, corporate experience of the faith. And here it bears mentioning that the "days and months and seasons and years" referenced in St. Paul's letter to the Galatians cannot be referring to liturgical calendars per se, because the faith that God bequeathed to His own chosen people was highly liturgical. What we see in scripture are not exhortations toward a Christianity stripped of religious rubrics, but rather condemnations of religion that has deteriorated into Pharisaism.



That being established, I should explain what I mean by "the corporate experience of the faith". The Orthodox calendar governs the liturgical experience of the Church throughout the year, and that experience is a liturgical reinforcement of the narrative of Christ's life, death, and resurrection. Pascha, the historic name for Easter, is the greatest feast of the year for obvious reasons. But it's the desire of the Church for Her worshipers that enjoyment of the Paschal feast be predicated on a somber embrace of Christ's central message: "Repent". For sinners, the Resurrection doesn't come w/o repentance, and so liturgically speaking, the Feast doesn't come w/o repentant observances. And as much as people unacquainted with Lenten observances--or who have only been exposed to de-historicized, self-styled observances--are prone to characterize them as ways of compartmentalizing the faith ("I let loose for most of the year but I 'give something up' during Lent"), the Lenten season is in fact purely and simply a preparation for the celebration of Easter. A side benefit is that those of us (which is most of us) whose lives of piety always ebb and flow are annually "reoriented" by the season of Lent with its increased prayers, services, charity, and fasting.





Another memorable aspect of Orthodox Lent is the event that kicks off the season: "Forgiveness Vespers". Repentance is a lifestyle that begins by asking forgiveness. And on the evening Lent begins, Orthodox Christians gather for Forgiveness Vespers to manifest James' exhortation in his epistle that we "confess [our] sins one to another". After the prayer service, we literally go to every other person present and ask forgiveness for falling short in our conformity to Christ, and in so doing, depriving the community of Christ in our own ways. "Forgive me a sinner," we say to each other, and in return, "Christ forgives."





The design of the repentant season of Lent with its culmination of the Resurrection feast is not to compartmentalize the faith, but to teach us the meaning of the entire faith in microcosm.





And incidentally, the Lenten period is not at all a "Pharisaic" affair. While fasting, prayer, and charity are encouraged and assumed, every Orthodox Paschal liturgy around the world, every year in perpetuity, entails the recitation of a famous 4th-century homily that includes this passage:





"If any have labored long in fasting, let him now receive his recompense. If any have wrought from the first hour, let him today receive his just reward. If any have come at the third hour, let him with thankfulness keep the feast. If any have arrived at the sixth hour, let him have no misgivings; because he shall in nowise be deprived thereof. If any have delayed until the ninth hour, let him draw near, fearing nothing. If any have tarried even until the eleventh hour, let him, also, be not alarmed at his tardiness; for the Lord, who is jealous of his honor, will accept the last even as the first; he gives rest unto him who comes at the eleventh hour, even as unto him who has wrought from the first hour.





And he shows mercy upon the last, and cares for the first; and to the one he gives, and upon the other he bestows gifts. And he both accepts the deeds, and welcomes the intention, and honors the acts and praises the offering. Wherefore, enter you all into the joy of your Lord; and receive your reward, both the first, and likewise the second. You rich and poor together, hold high festival. You sober and you heedless, honor the day. Rejoice today, both you who have fasted and you who have disregarded the fast. The table is full-laden; feast ye all sumptuously. The calf is fatted; let no one go hungry away.





Enjoy ye all the feast of faith: Receive ye all the riches of loving-kindness."





God asks for repentance in faith, but offers forgiveness and the resurrection even to those who fall.





So in short, and in all seriousness, I observe Lent because it teaches me the essence of the faith.
Powered by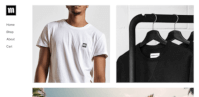 Create your own unique website with customizable templates.